Things Are Heating Up Around Here!
I'm not just speaking about the weather - although this Indian Summer-like weather is strange, almost like we're finally getting our summer heat - but it's November!!!! What I'm really talking about is the "temperature" around here at Trinity - it really IS heating up! There is a LOT going on, with plans and promise of a LOT more to come!
I want to really celebrate a couple of events that happened in just the past week or so: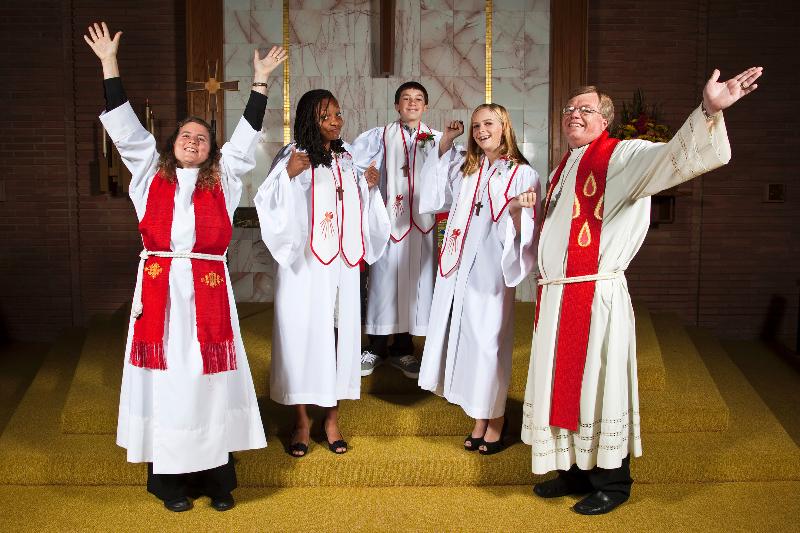 First, our Reformation Sunday Worship and Confirmation Service. We rejoice to celebrate the Affirmation of Baptism of three of our wonderful young people: Samantha S., Daniel G. and Christina-Ann P.. What a joy it has been to get to know them and walk with them as they grew in grace and knowledge of God's love for them in Christ, in their understanding of the Church and its ministry, and of their role in the world as children of God. (NOT the Formal Portrait!)
Connected with that, we had a fun Luther Movie Night last Wednesday. About 22 die-hard Lutherans joined the confirmation classes in learning about the people and events that God used in reforming the church and setting loose the Gospel and Grace into the world again. We also ate Gummy Worms (at the part of the movie where Luther is at the Diet of Worms (sorry, Lutheran humor) and sang "The Reformation Polka," the chorus of which is (sung to the tune of "Supercalifragilistic-Expialidocious"- You HAVE to sing as you read it!!!) "Papal bulls, indulgences, and transubstantiation, Speak your mind against them and face excommunication! Nail your theses to the door, let's start a Reformation! Papal bulls, indulgences, and transubstantiation!"
For most churches, those two events would be enough - more than people could handle. But not at Trinity where things are really heating up! Last Saturday we again hosted a neighborhood Harvest Festival - HUNDREDS of people came by to play games, jump on the jumpers, eat, share, connect and meet God's people here at Trinity. THANK YOU to ALL who worked so hard on this event. It was a wonderful success!!!
And then.... (insert spooky music here - dun, dun, DUNNNNN!) our Lighthouse youth hosted a Haunted House on Halloween. They had a BLAST!!! And LOTS AND LOTS of people - kids and adults, were invited to be a part of Trinity and experience what God is doing here. Thank you all for your amazing work!
Congregational Meeting Coming Up, Sunday, November 14th, 2010, 1pm
We would like the "heat" to continue... not the weather, of course - but the Fire of God's Spirit working among us. Later this week each member of Trinity Lutheran will receive a letter inviting them to this Congregational Meeting to hear the challenge to keep the heat on, to keep the momentum going. This will take a deeper commitment by not just the leadership of Trinity, but by ALL MEMBERS of the church. Look for the letter this week, return the enclosed ballot by November 9th, and join us in God's Work at Trinity Lutheran!
In Christ's Service,
Pastor Larry